Race Timing Systems – Chip & Traditional 

(Order form at bottom of this page)

Whether you host a single annual event, multiple events, or you're a weekend warrior, timing events can be fun, lucrative and allows you to enjoy the outdoors. With our professional training and some guided practice, timing events will be second nature to you. We take all the guess work out and provide onsite training with every system purchased. 
 .
Our runners chute/route  system comes professionally branded with your logo/company info to create a lasting impression and to encourage repeat business as well as  referrals. We've also added tools and resources to expand sponsorship opportunities that will help you and the organizations you serve increase revenue. 
 .
Included are all resources for your runners chute, cones, delineators, timing clock, pennants banners, timing software, route marking tools, safety equipment, RFID System, 300 RFID Chips, a storage box and much more! Instruction manual and suggested rates are all included.
 .
Our software can be used on any android or PC laptop device and  is a complete race timing software product for timing, scoring and uploading results directly to your web site while the race is going on and then immediately when it's done. The current version features the ability to score multiple simultaneous races, each with multiple categories (like age groups) and overall winners from age group categories.
 .
Our training program is included with our packages however you are responsible for your own transportation, meals and hotel room while attending our training school. Shipping cost is not included  in the figures above and will be calculated based on clients needs.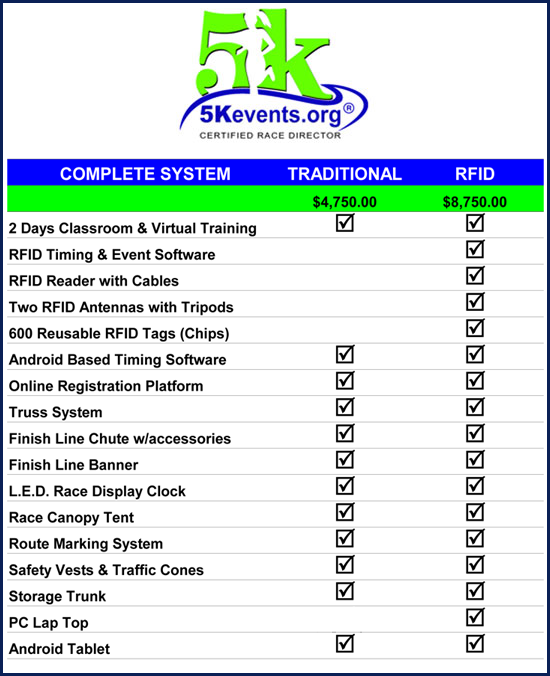 Our race timing packages can be purchased ala-cart or you can purchase a complete bundled package.
TRADITIONAL TIMING:    (All-in): $4750.00
RFID CHIP TIMING:         (All-in): $8750.00
.
Timing and scoring can be done at any race location, even the remotest ones, and with cellular (or WiFi) connectivity, results can be posted LIVE on the web directly from the race site, even while the race is still in progress. A great low-cost race timing solution for those who need it. 
WHAT MAKES US DIFFERENT? We're more than equipment providers, we are trainers and consultants.  Think of us as your silent partner. We exist so you can start and maintain your business for yourself, but not by yourself. We provide ongoing support, timing leads, event contracts and business development. 
WHY INVEST IN OUR TIMING PACKAGE?: Since we launched our program in 2014, there has not been a single organization in the industry that compares nor provides the tools resources and guidance that 5Kevents does. Everything is included to professionally time endurance events, from software to traffic cones to bib retention pins and marketing programs. Not only do we believe we have assembled the ONLY turn Key Timing Package in the market, we were the first in the industry to do so (and presently the only ones) to provide a complete one stop shop for all your event needs.  Our package will allow you to time 5K's, 10K's Duathlons, Triathlons, Marathons, Stair Climbs, Track Meets. And with simple add-ons,  you'll be able to time just about any type of endurance event you can imagine from snow skiing to dragon boat challenges.
Software Features:
Event Management. Time multiple races at the same time or with staggered starting times. Collects split times in multi-lap events. Swap athletes from one event to another with ease.
Online Capabilities. Create free event websites with a single click of a button. Online registration is automatically available on the website. Easily upload photos, course maps, mail-in registration forms, results, or any other file to the website through the software.
Reporting Tools. Print Overall, Age Division, or Team results any time  during the race by clicking a single button. Numerous other reports are also available. All reports can be exported to Word, Excel, or PDF.
Import/Export Capabilities. Import race participants from any Excel file, no special format required. Export athletes and performances to Excel, PDF, or Word.
Built-In Training Tools. Come up to speed quickly on all the software's feature with built-in video tutorials, helpful hints and user manual.
Automatic Photo Capture. Attach a Canon SLR camera and the software will automatically take a photo of every finisher.
Public Display. Attach a large screen TV to the finish line computer and the software can display each finishers name, time, and associated team the moment each person finishes.
Map/Course Creation. Built-in course mapping tools powered by RunningAhead.com and MapMyRun.com.
Results Kiosk. Display scrolling results on a laptop for your coaches and athletes to view.
Please allow 3 to 4 weeks for delivery – RUSH orders accommodated upon request